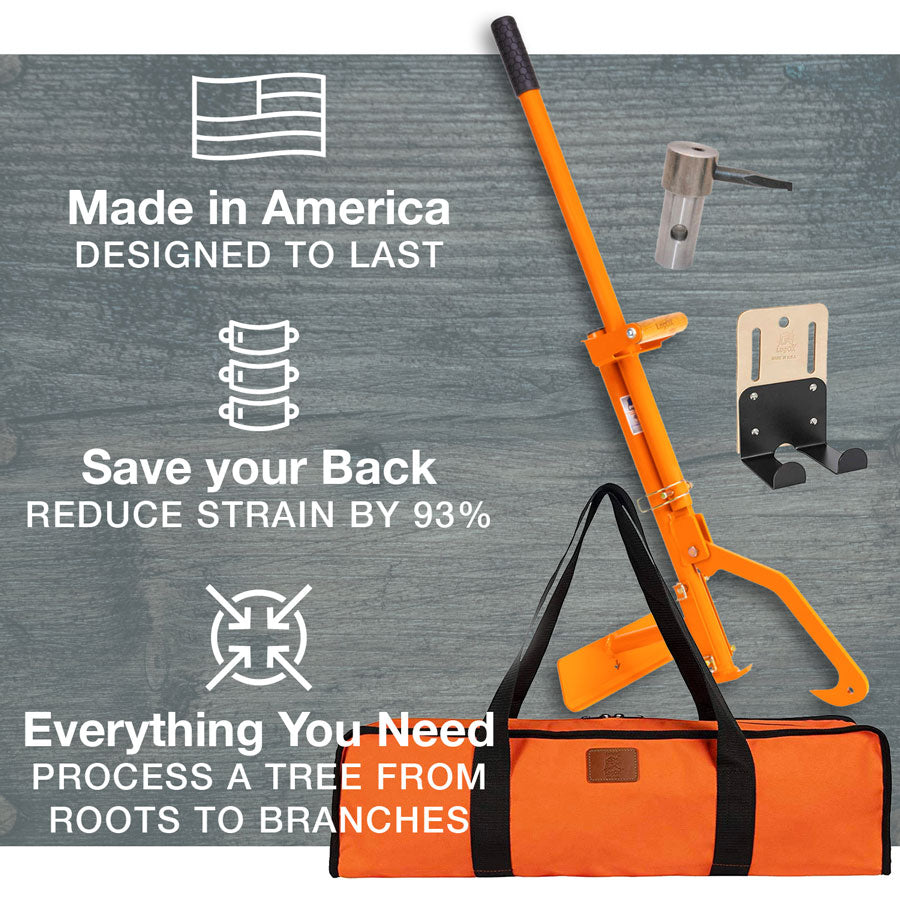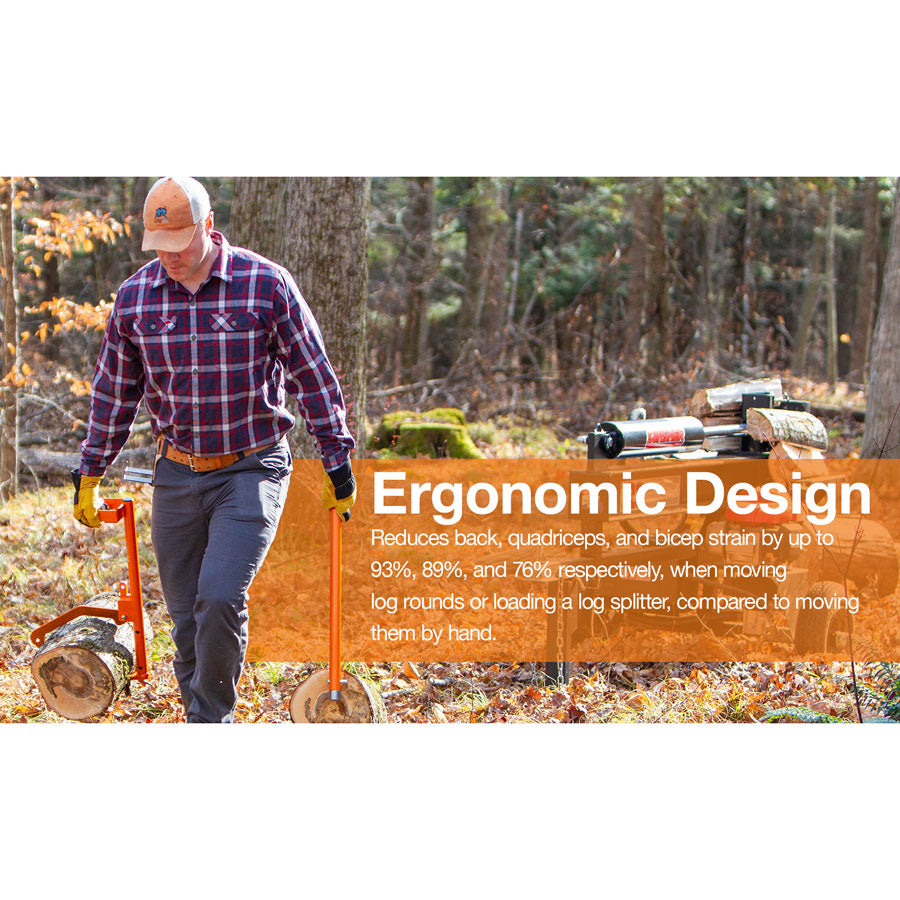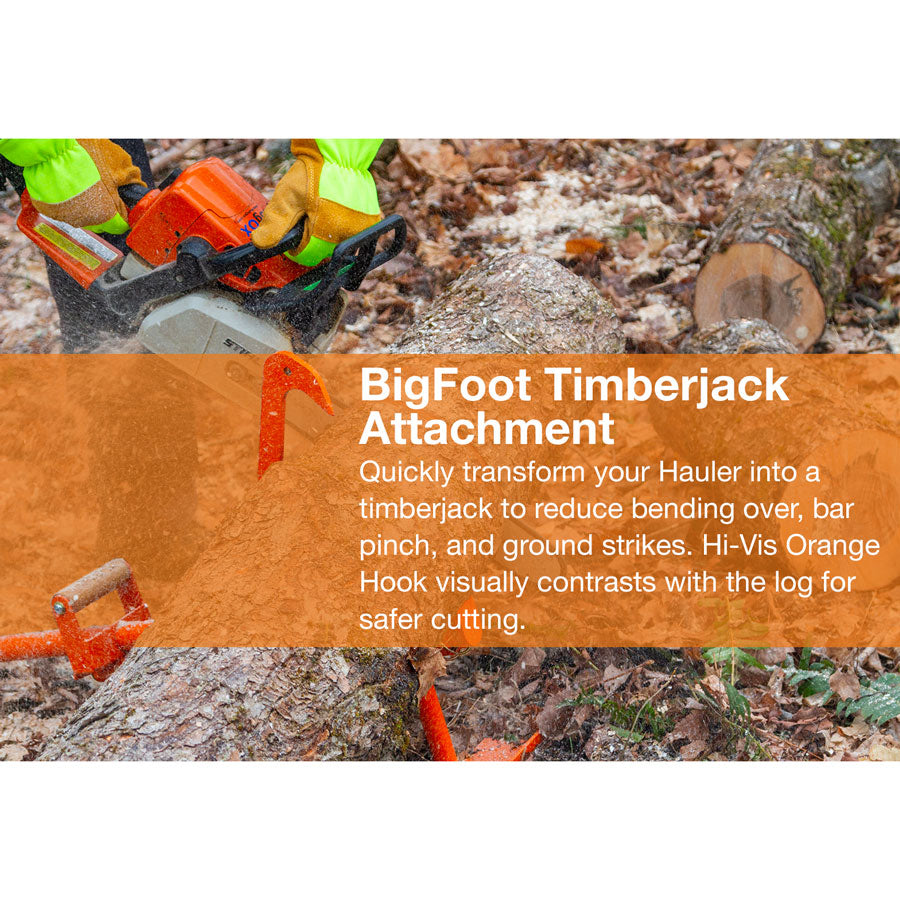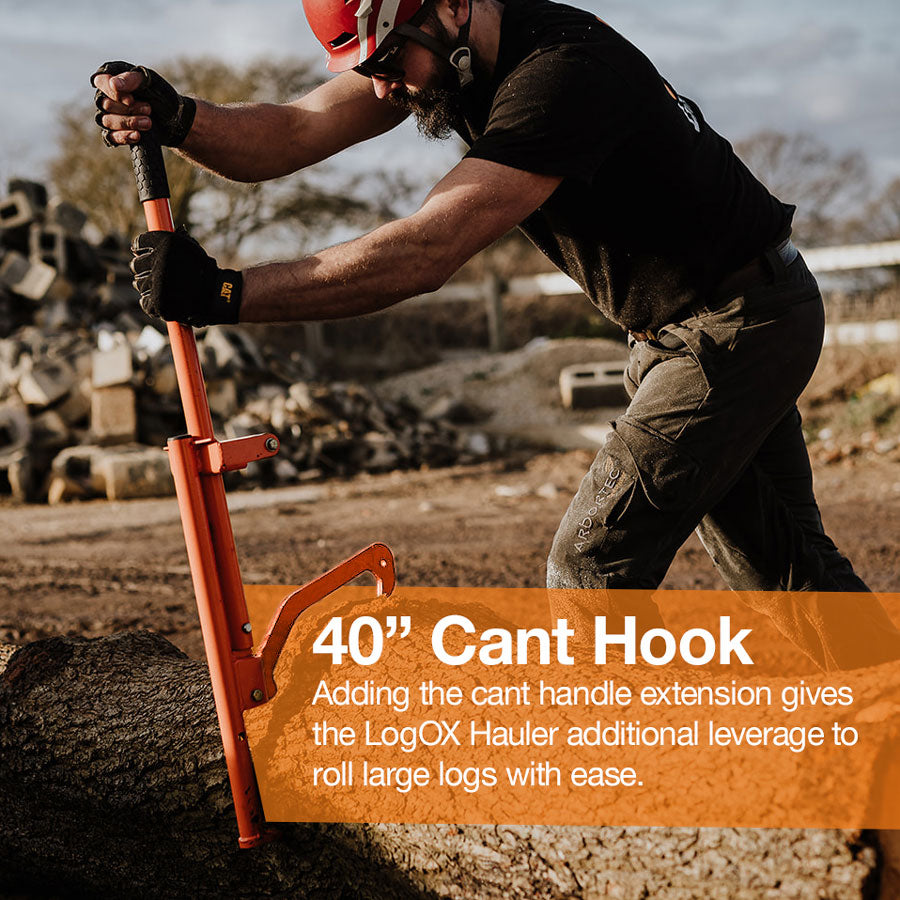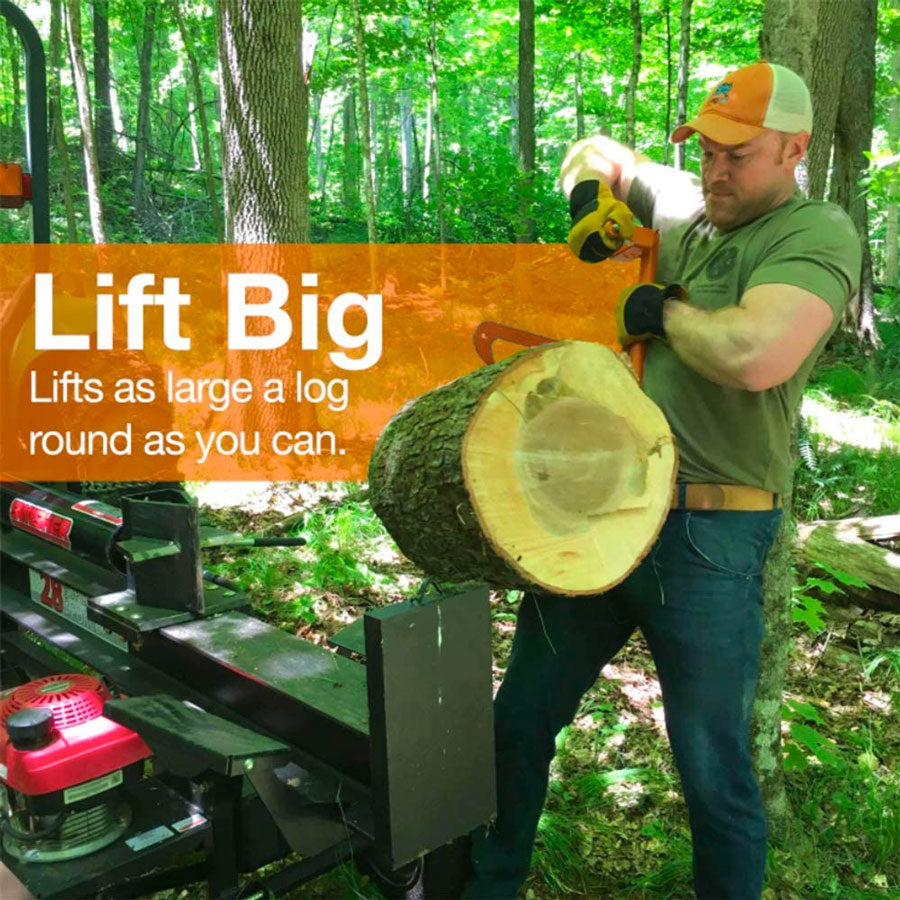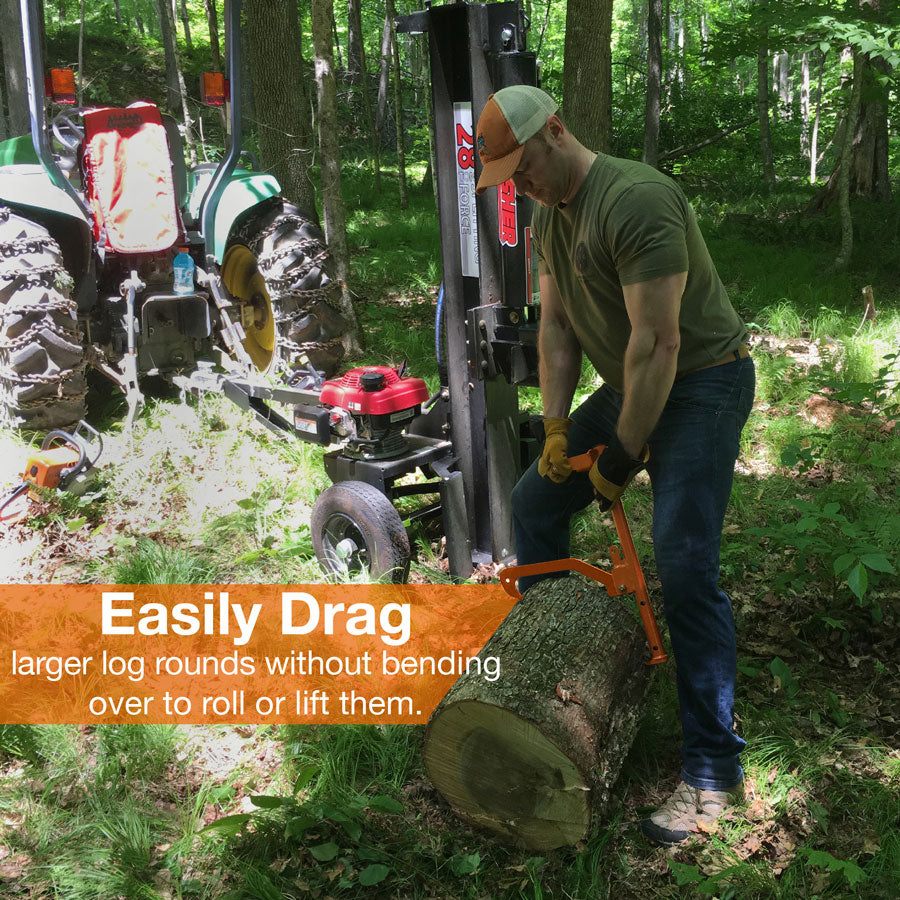 LogOX Forester Package
Pickup available at Local Pickup
Usually ready in 24 hours
Local Pickup
Pickup available, usually ready in 24 hours
71 Benedict Rd
Morris CT 06763
United States
+18442877225
Description

What's Included

Video

Reviews
All of Your Favorite American-Made LogOX Forestry Gear in One Portable Bag!
LogOX has made the best forestry hand tool on the market even better, with five big improvements to the best-selling LogOX 3-in-1 Forestry MultiTool, which the Forester Package is built around. Containing all of the best LogOX accessories as well, this package is designed to go with you everywhere you're working with a chainsaw, log splitter, or portable sawmill.
The new redesigned and patent-pending "BigFoot Timberjack" has 3.5X more ground contact than other timberjacks, providing a more stable elevated cutting platform. Curved front edge makes it easier to drag logs out of your way.
The LogOX was designed in the woods of Vermont by an engineer and seasoned woodsman to be the most ergonomic, portable, and versatile forestry hand tool in the world. Its lightweight and modular design eliminates the need for multiple long handled tools and easily travels wherever you do. With a LogOX and a chainsaw, you have everything you need to process a downed tree from roots to leaves.
The LogOX 3-in-1 Forestry MultiTool is the top-rated and best-selling forestry hand tool of its kind in America. It's a handcrafted professional-grade tool, guaranteed for life, and proudly manufactured in the USA from American steel and hardwood. Through a partnership with the non-profit organization Tree-Nation, with every Forester Package sold, LogOX will plant one tree to help create habitats for wildlife and restore the environment in deforested areas around the world.
This multipurpose design is also an exceptional value, delivering the utility of three different forestry hand tools, sold separately for far more, into a single modular, compact, and portable package. The LogOX is hands down the best forestry hand tool in a modern wood cutter's arsenal.
Bottom line, firewood is THE best alternative, cost-effective, and renewable home heating fuel available as the cost of fossil fuel soars. With a LogOX in your hands, you'll be harvesting firewood faster, safer, and easier than ever before. Factor in our lifetime warranty, and not only is this the last tool of its kind you'll ever have to buy, but with the three additional accessories included in the LogOX Forester Package, it's also an exceptional value for the best forestry tool in a modern woodsman's arsenal.
All Items are Proudly Made In USA.
The LogOX Forester Package includes:
LogOX 3-IN-1 FORESTRY MULTITOOL - three essential firewood processing tools, bundled into one modular, compact, and portable tool design that quickly assembles with three Swing-Lock connection pins.
21" HAULER- Lift, drag, and roll logs, without bending over. Scientifically proven to reduce the painful arm and back strain of repetitive motions like loading log rounds onto a log splitter by up to 93% vs lifting by hand.

Its ergonomic design delivers an undeniable mechanical advantage, but unlike flimsy timber tongs, you can lift or drag as large of a log round with the LogOX Hauler as you're physically capable of doing by hand.
The LogOX Hauler now features a ½" longer hardwood cross handle to comfortably accommodate larger hands and/or heavy work gloves. The Hauler, with its ergonomic wooden cross handle and outstanding hook design, is also a superior cant hook to use for rolling smaller diameter logs. Especially on portable sawmill and firewood processor decks.
Three "Swing-Lock Connection Pins" allow you to quickly add the cant handle and timberjack attachments to the Hauler and transition between tools, providing you with a smooth workflow and the right tool when you need it.

40" CANT HOOK – Add the Cant Handle Extension to the Hauler, for more leverage & easier log handling. The laser sharp hook & chiseled toe, originally designed to lift log rounds, provide a secure grip you can trust while rolling heavy logs.
40" TIMBERJACK – Elevate logs to quickly, safely, & easily buck firewood rounds. This prevents chain damage from accidental ground strikes and bar pinch. New Hi-Vis orange hook contrasts with log to improve chainsaw safety.
HAULER HOLSTER - custom-designed premium leather and powder-coated US steel holster attaches to a standard 2" work belt. This allows you to place the LogOX Hauler conveniently on your belt while keeping your hands free to operate a log splitter in between loading log rounds. This must-have LogOX accessory prevents the self-defeating need to continually bend over to pick the Hauler up off the ground while operating the controls of machinery. Not intended to be used to transport the Hauler while walking.
PICKOX PICKAROON ATTACHMENT - When attached to the included Cant Handle Extension with the same Swing-Lock connection pin, this pocket-sized picaroon attachment turns your LogOX into a 4-in-1 Forestry MultiTool.

The versatile PickOX is perfect for picking up log rounds or split wood pieces, without bending over, safely dislodging stuck wood debris from a firewood processor, separating bucked rounds from a log pile, or unloading firewood from a truck bed or wagon. Features a replaceable hardened steel tip with a "keyhole" design that both smoothly bites into the wood for a secure hold and quickly releases it whenever the user chooses to.

CARRYOX GEAR BAG- This heavy-duty, American-made, 18oz natural canvas gear bag is easy to spot in hi-vis orange. Its compact design makes storage and transportation a breeze, while still having plenty of room to carry all of your LogOX gear, PPE, and then some with 1,300 cubic inches of internal space.

Custom designed for LogOX tools, it has two large internal Velcro-secured pockets to store smaller items, a rugged double layered bottom, double YKK zippers, and two long straps, which can either be carried by hand or worn like a backpack. Keep the Forester Package in your vehicle, alongside your chainsaw, and never worry about downed trees blocking your path ever again.
watchZdaddy
great place to deal with
Tim was very helpful and they only sell top of the line product