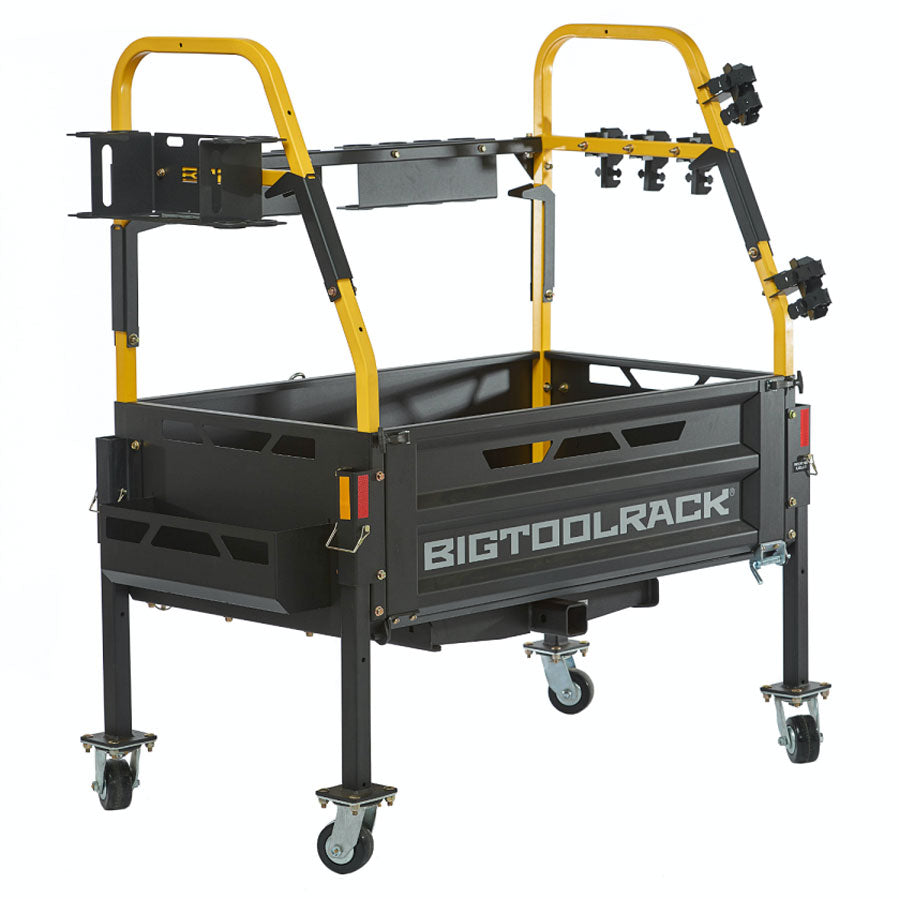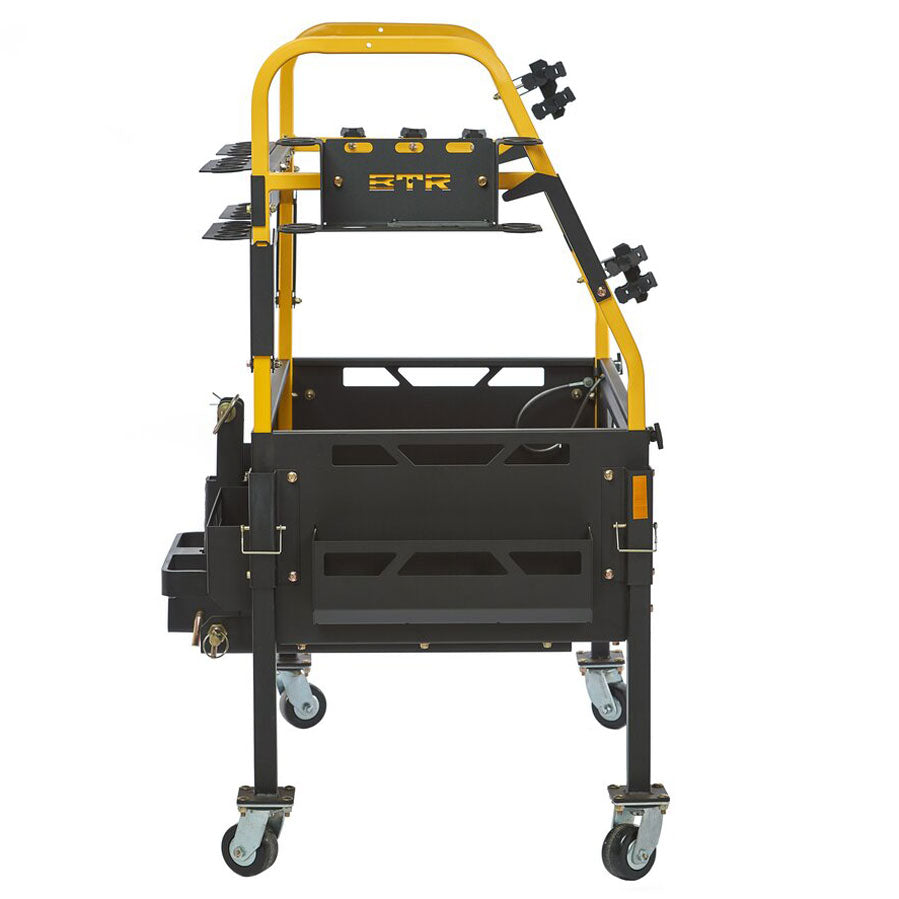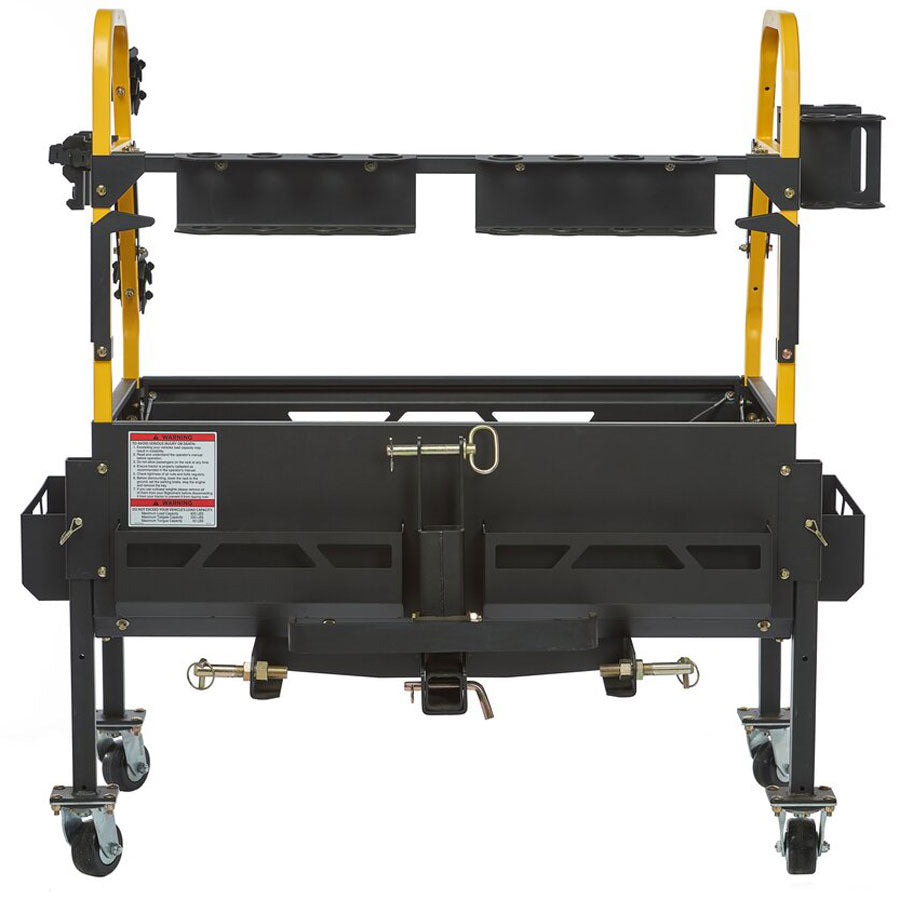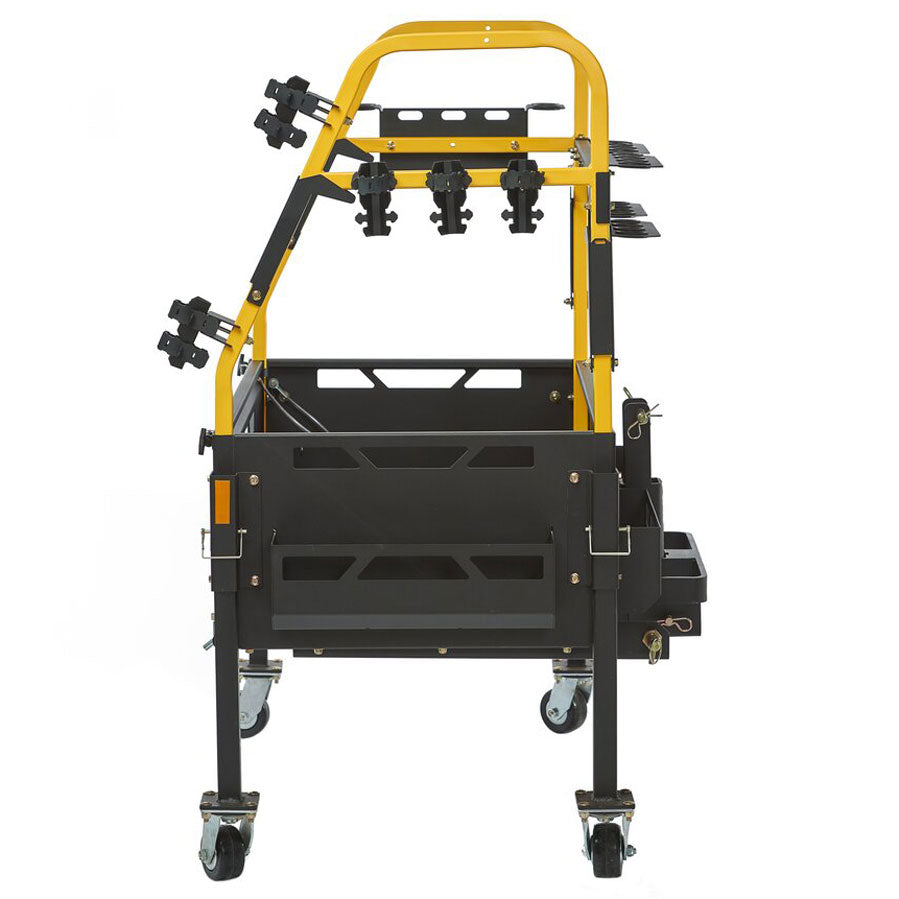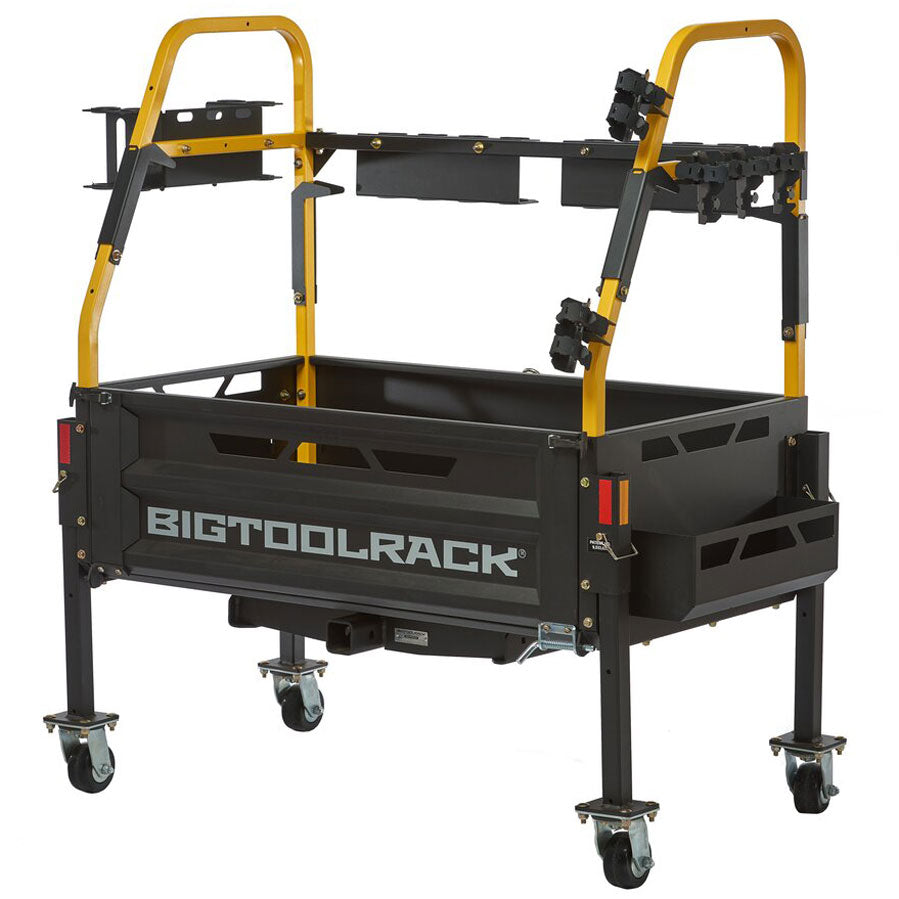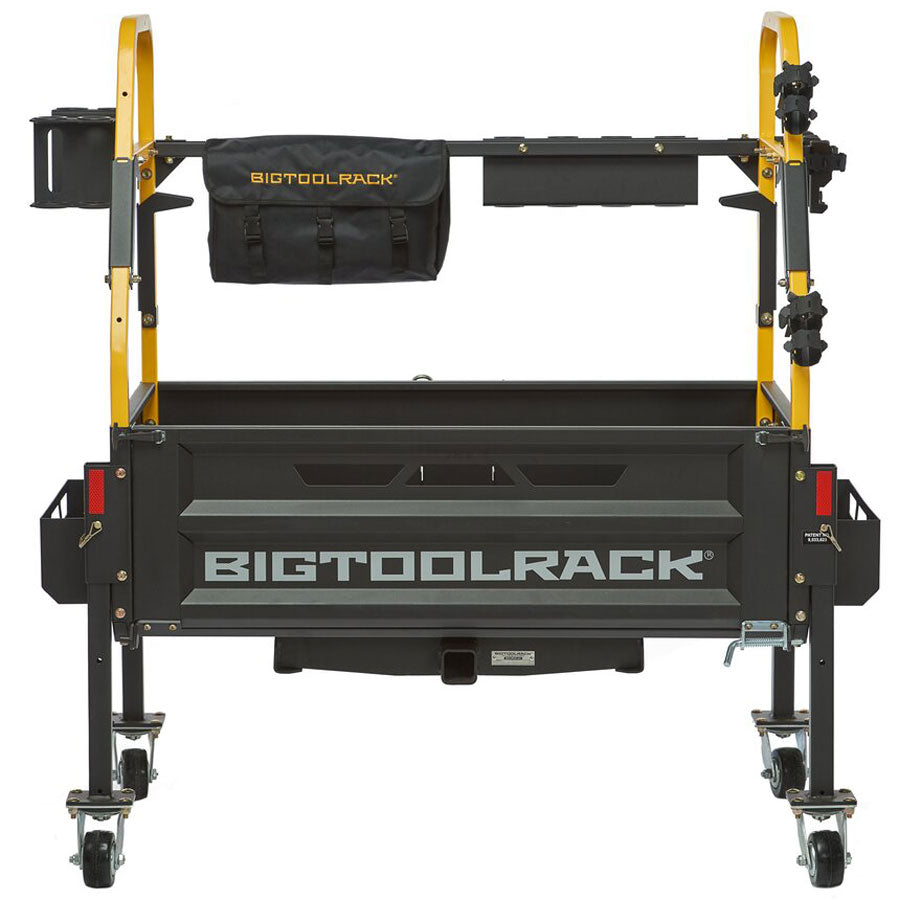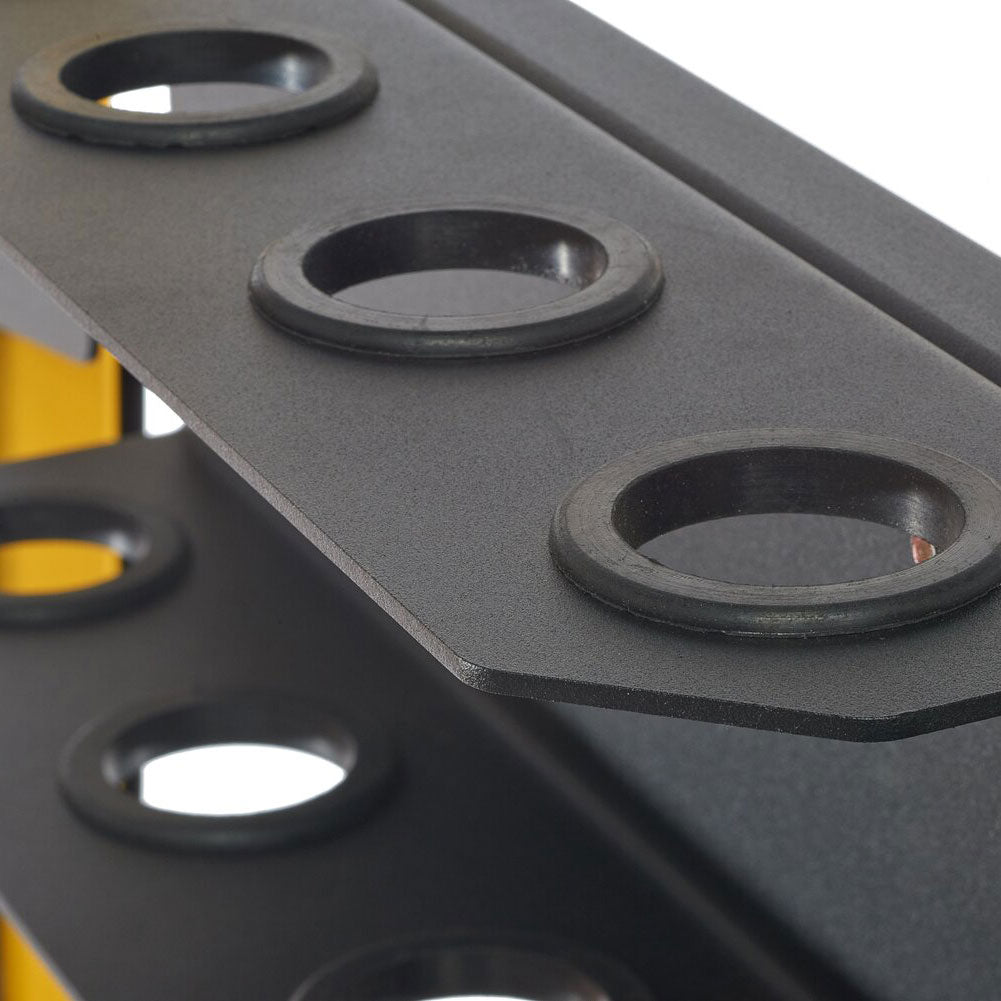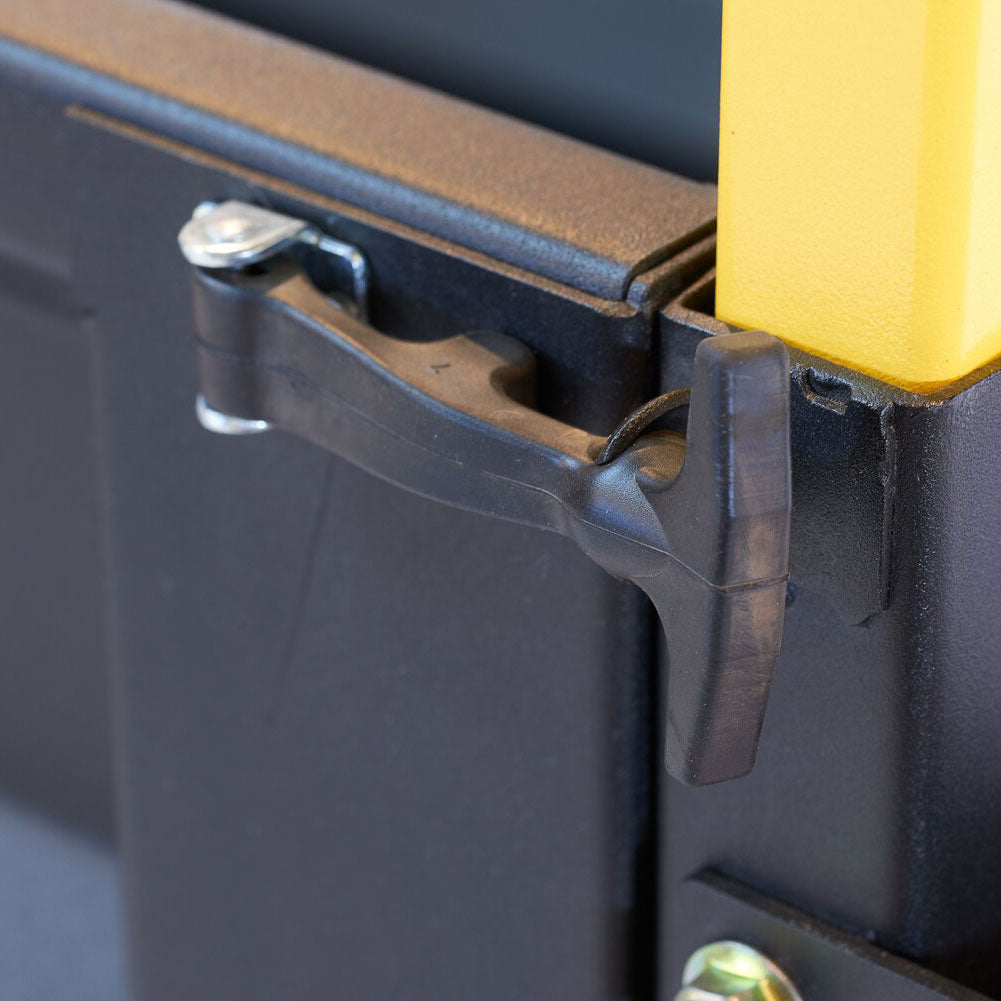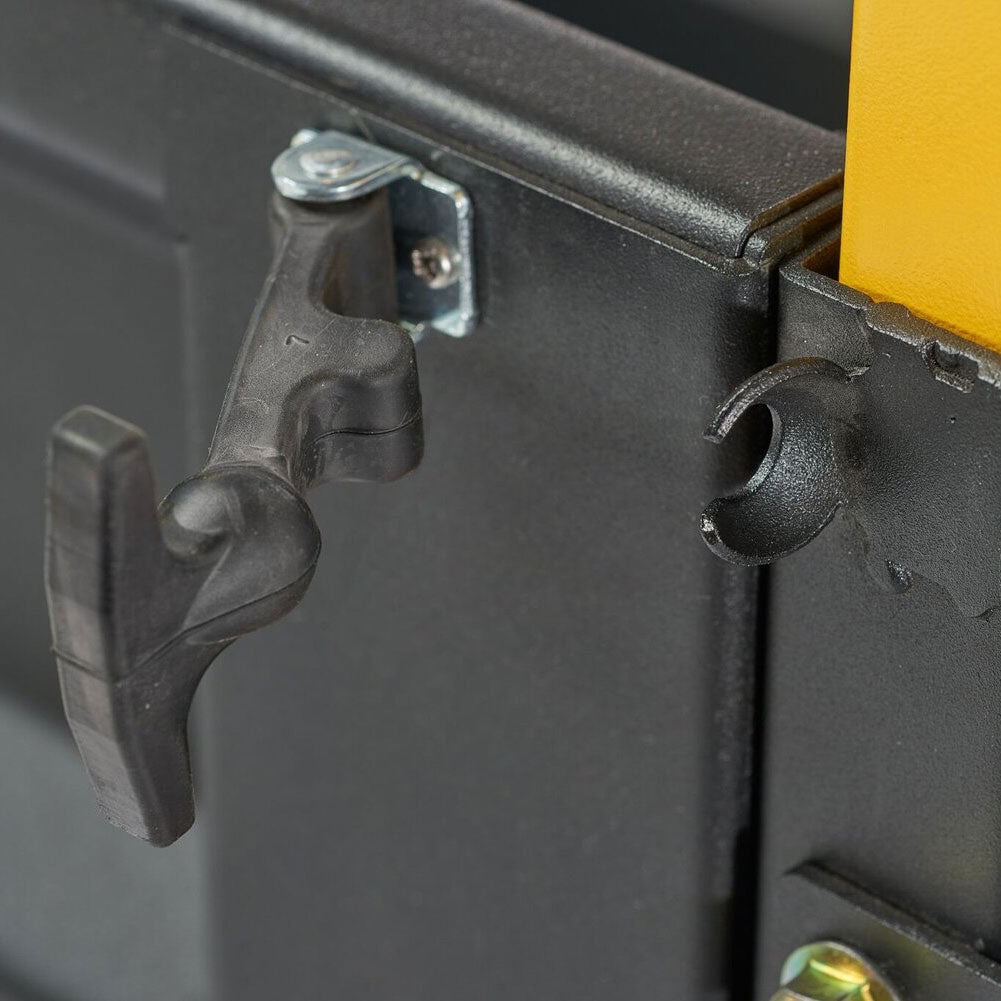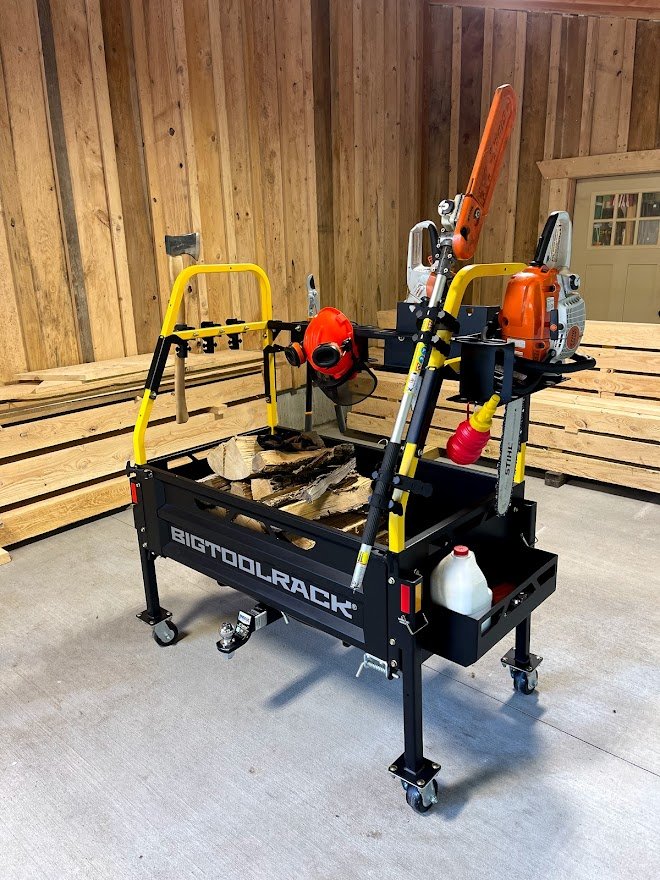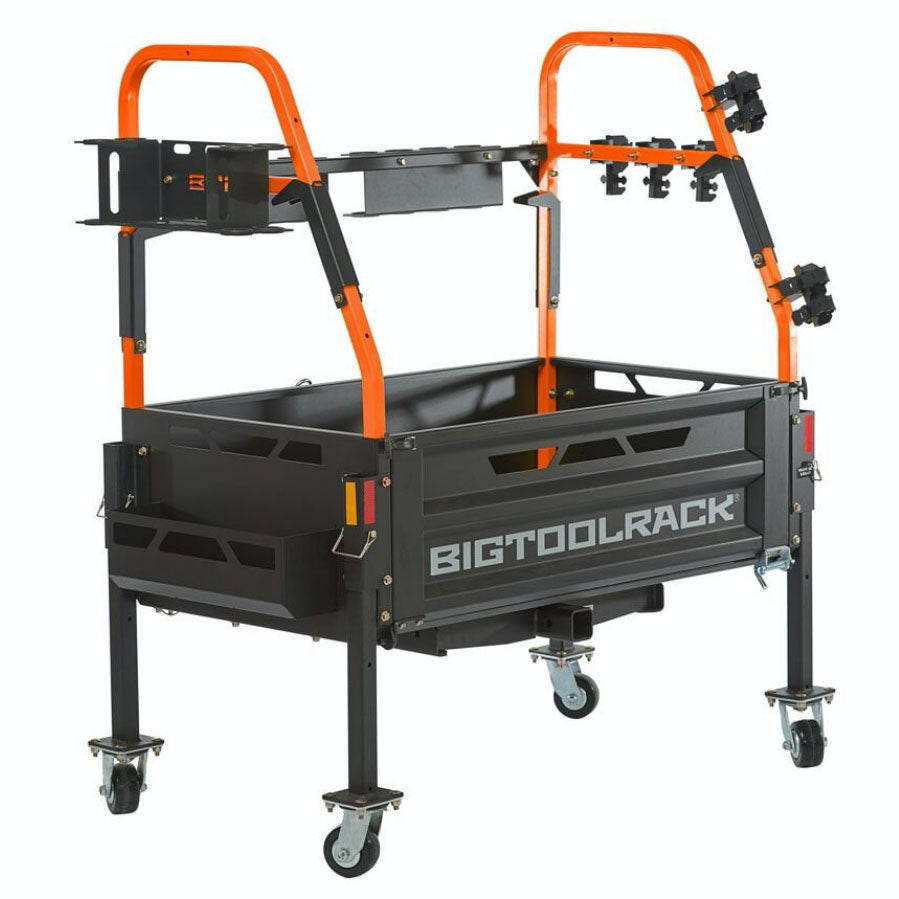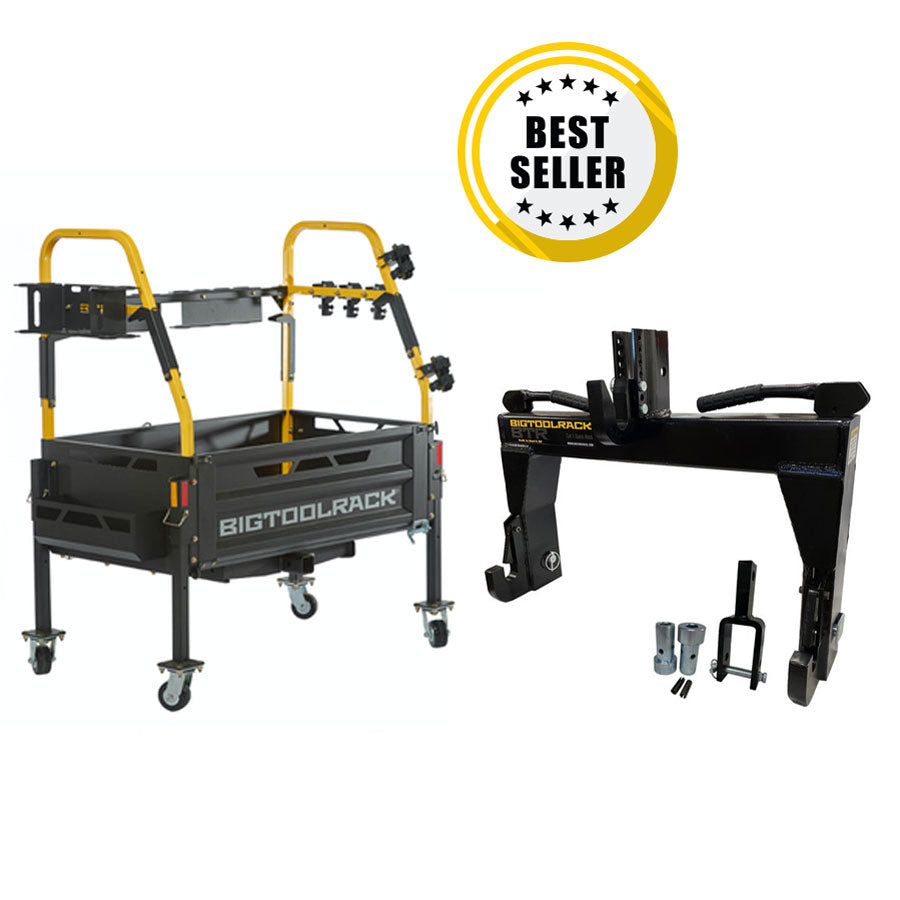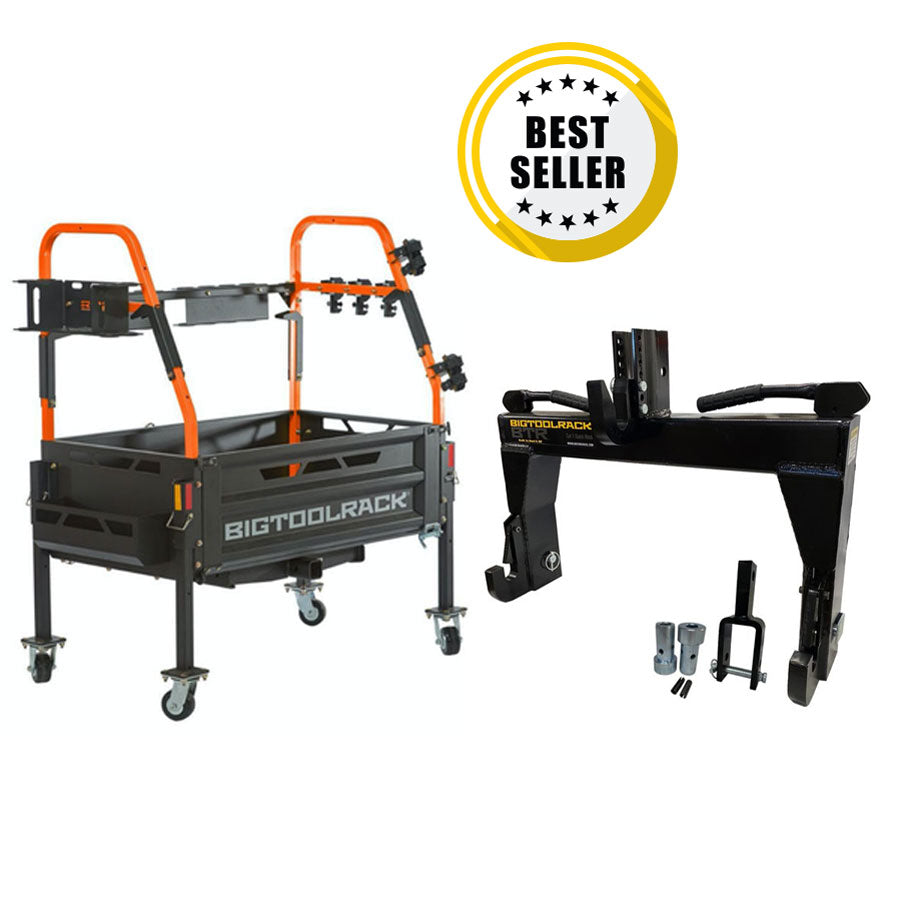 Ultimate Rack® FREE SHIPPING this week!
Combo Options:
Ultimate Rack Only
Description

What's Included

Comparison

Load Capacity

Dimensions

Owner's Manual

Videos

Reviews
The perfect solution for anyone with 1 to 100 acres! This rack is the perfect add-on to your tractor. Haul more, carry more and get more done! Add functionality, efficiency, storage and counter weight to your compact or sub-compact tractor in seconds. After years of testing and development we've created a heavy duty rack to solve all the most common frustrations with compact and sub-compact tractors. The Ultimate Rack's heavy duty construction means jobs like making firewood, planting trees, gardening, spreading mulch, and managing properties will be simple and efficient. Safely carry all your project needs on your tractor using the many built in tool holders, from shovels to pole saws, string trimmers to chainsaws, this beast is Built to Haul it All™
HEAVY DUTY STEEL CONSTRUCTION (NOT THIN SHEET METAL) Ultimate Rack Weighs about 300 lbs. all by itself…
Attaches to your Quick Hitch or I-Match in seconds
Convenient retractable legs with heavy duty casters

Active tailgate with cables - turn your tractor into a pickup truck in seconds
Doubles as a 300 lb. counter weight, even without added suitcase weights
2" receiver hitch
Mobile workstation on and off your tractor
Package is 85% assembled in the crate
Available colors: Yellow, Orange, Red, Green and Gray
YOU COULD BUY A UTV 4X4, BUT HERE'S WHAT YOU'RE MISSING:
| Features | Ultimate Rack® | UTV 4x4 |
| --- | --- | --- |
| Cargo Space | YES | YES |
| Tractor Loader | YES | NO |
| Chainsaw Holder | YES | NO |
| Custom Tool Holders | YES | NO |
| Storage Bins | YES | NO |
| Rubber Cargo Liner | YES | NO |
| Grass Trimmer Kit | YES | NO |
| Cost | $1,999.99 | $21,000+ |
| Additional Costs | One-Time Investment | Fuel and Maintenance |
WHY SPEND OVER
$21,000+

ON A UTV WHEN YOU COULD HAVE AN ULTIMATE RACK® FOR

ABOUT 10% OF THE COST?
600 LBS Maximum Load Capacity CARGO AREA
250 LBS Tailgate Capacity
50 LBS Maximum Tongue Capacity (tow feature) designed to tow a trailer, log splitter or other small attachments.
45" x 25.5" x 14" Tall
Weight approximately 300lbs
Outside Dimensions (51" L to the outside of the telescoping wheel holder without the side bins) Side to Side
L: 57.5" (with the side bins) Side to Side
W: 36" Front to Back
H: 45.75" without wheels Top to Bottom
H: 59" Rack with wheel kit extended. Full Height Note the bottom of the rack is 16" off the ground with the wheels extended. With the wheels up it is 6.5"
Rack in the Crate is 55x24x32 367 LBS 
Well worth it, well built.
I will say this. Most item have an item description loaded with B/S that make the product sound far better than it is. That is far from the case with this item.
I bought the big tool rack system to mount my sprayer.
Upon unpacking I found a solidly constructed unit. The instruction are so well written, they are easy to follow and easy to understand, if you can read you can assemble it. But if you can't read the pictures perfectly illiterate the written instruction as do the written instruction perfectly describe the pictures.
I haven't seen instruction this well written and illustrated since tve 60's. The same goes for the precision quality of the construction. Definitely not made in China. The packaging is soild and reminisce of the soild packaging of the 60's.
Not only it's this unit well built, you do not have to fight it to assemble it. The parts fit together nicely. There is no need to force pieces together to make them fit, line up, or insert bolts. The big tool rack is a well thought out system making it very versatile and easy to adapt to any number of tasks and jobs that may arise. My spraying system fits perfectly. I didn't buy the boom because I was not sure what type boom mount I would need and thought I would need to make a mount to fit. Far from the case. This unit is so well thought out, it has a receiver on both side, Nice move. Now I can buy a normal boom with a standard hitch and everything will fit with nicely.
I highly recommend this rack system. Pre-sale, post sales, and follow were outstanding.
But at last every review must have its con's to go with its pro's, therefore, here is mine.
The only negative I can find with this system is that there is no place to mount the BigToolRack license plate that came with the Rack.
What's up with that.
Best Tractor Attachment
Great quality and very useful. Great company and service.
Well designed and well made
Came packed extremely well. A little more assembly than I expected, but easy to accomplish. Many options available for layout of equipment.
Super awesome product easy assembly owner check on product from order to delivery highly recommend.
Incredibly useful
It is a very useful addition to any tractor. We load up all our fencing, tools, and chainsaws into the tool rack. We can also hook a utility trailer to the rack and head out to clear land and run fencing. All while still having to bucket free or forks available.
We also use it as counter weight...the rack itself is 350lbs and we add cinderblocks or rocks. They also offer suitcase weights that mount to the front of the rack so you can have counterweight and keep the rack open. American made and high quality with very responsive customer service
Ultimate Rack Overview
Learn more & how to build your New Ultimate rack
DROP AND LOAD IT INTO YOUR GARAGE - LEAVING YOUR TOOLS ON IT!
Retractable Legs
HAUL OVER 20 TOOLS WITH THIS BEAST!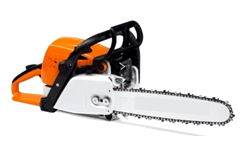 CARRY 1 CHAINSAW & YOU CAN ADD ANOTHER HOLDER
TRIMMER & YOU CAN ADD ANOTHER HOLDER FOR A POLE SAW
CARRY BACKPACK BLOWERS, ROPES, CHAINS AND MORE...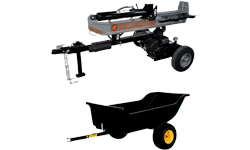 TOW YOUR LOG SPLITTER OR UTILITY TRAILER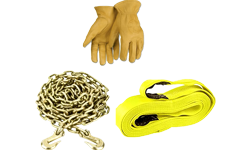 TAKE YOUR GLOVES CHAINS, STRAPS AND MORE...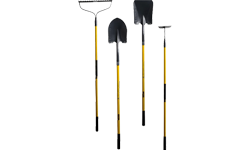 CARRY UP TO 8 LONG HANDLE TOOLS
CARRY 3 LARGE HANDLE TOOLS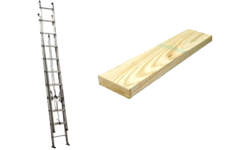 YOU CAN EVEN CARRY LADDERS & LONG LUMBER WITH EASE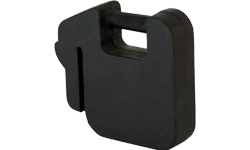 HOLDS UP TO 6 SUITCASE WEIGHTS...
Will it
Fit my tractor?
Perfect Carry-All Solution For Tractors Large And Small.
The Ultimate Rack attaches to any tractor with a category-1, 3 point hitch in seconds! If your hitch looks like this, it will fit!
Some popular models:
• Kubota BX, B, L, M series tractors and more
• John Deere 1-5 series tractors and more
• Massy Ferguson, Kioti, New Holland, Mahindra, Case IH, LS, and many more!
*Also iMatch & Quick Hitch compatible
Will it
GIVE Me Ballast?
The Ultimate Rack will replace your weight box!
The Ultimate Rack weighs 300 lbs. all by itself and It holds 600 lbs. You can add six 42 lb. suitcase weights, to our counterweight bracket that comes standard on all Ultimate Racks.
The Ultimate rack can add up to 1100 lbs. of ballast to your tractor. Important: always refer to your tractors manual for recommended ballast.
COMPATIBLE with Attachments
You Already Own
Attach your dump trailer!
CONNECTS To Your Front End Loader
Connect your Ultimate Rack right to your front end loader with ease, using a Skid Steer Quick Hitch! This is great for the guys with backhoes or other rear implements that still want the ability to carry their tools to the job site, it just makes sense…
See what our customers are saying
ZERO RETURNS IN OVER 7 YEARS!
I came across this product while looking to puchase a rear ballast box to add weight on the rear of the tractor when using the fron end loader. The Ultimate Rack provides that function obviously, but it is great for storing all my yard tools, including shovels, rakes, lifting chains, bar oil for my chainsaw and string trimmer. I use it for hauling brush as well. It is very well built and sturdy. I use it as a power lift gate as well to easily unload heavy item like appliances from my pick up truck to the entrance of the house. A 300 lb. Fridge/freezer was no issue. If you own a compact tractor, you need to have the Ultimate Rack!
Bought my Ultimate Rack over 5 years ago! I use it on my JD X728. Very well built sturdy unit. So convenient to keep all my tools loaded on it and just roll it into the corner of the garage until i need it again. Helps me complete yard work so much faster. Great idea... wish i thought of this myself!
I bought my Ultimate Rack several years ago. It is a phenomenal attachment for my tractor. Eliminated the need for a trailer or using the bucket for my chainsaw, shovel, weed wacker, etc. Customer service from Tim Descoteaux was exceptional! I cannot recommend this rack enough!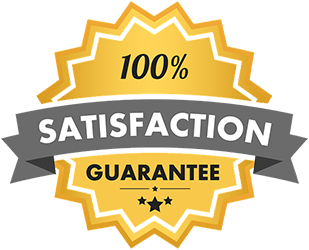 Zero returns in over 7 years!
30 DAY RACK BACK GUARANTEE!
If you're not 100% Satisfied with your Ultimate Rack® within the first 30 days and you don't think this is the best attachment you own and one of the highest quality attachments built, we'll buy it back from you!
3 Easy shipping options for everyone
FREE SHIPPING