Description

What's Included

Additional Mounting

Capacity & Dimensions

Owner's Manual

Reviews
Mobile storage for lawn tractors, zero turn mowers, compact & sub compact tractors, ATV's, UTV's and more…. Perfect for anyone with limited storage space. This one of a kind attachment is perfect for jobs like planting grass, clearing trails, cutting firewood, planting a garden, spreading mulch, pulling weeds and more. The YardRack® is designed so you can load up once and go to work, without having to make multiple trips.
Attaches in seconds! Includes attaching bracket and mounting hardware with easy to follow instructions
Universal fit - compatible with most riding lawn mowers and sub-compact tractors. 
Easy to store - folds up for convenient storage on and off your tractor
Fits on any 2 inch female receiver or 3 point hitch with a draw bar & 2 inch receiver
Wagon-like load carrying capacity up to 75 lbs.
Dumps effortlessly by releasing top cables
Quickly folds up when not in use, buckles in place allowing it to stay on during mowing.
YardRack® comes 100% already assembled in the box with everything you need
Utility Patent held 10,899,284 B2
Design Patent held D868843
 NOTE: The pics when you select your package it will show you what is included, the mounting options are the main difference in the packages. 
1.25" to 2" Mounting Kit
2" Dual Extender Mounting Kit
3 Point Drawbar Mounting Kit 
Ferris Mounting Kit
2″ Receiver Hitch HX2
Category 1, 3 PT Hitch Receiver Drawbar- Suitcase Weight Bracket
75lb load capacity
Cargo Bag: 29W X 19D X 11H
Yellow bar: 25 1/4 W X 27H
Outside Dims with Mounting tube: 31W x 22.5D x35H
Hitch Mounting Bracket: 13W X 5D X 5H
Box weight: 39.68lbs
Box Dimensions: 33" x 29" x 7"
Big Tool Rack YardRack, awesome storage solutions
The YardRack is a well thought out and innovative attachment. Within 15 to 20 minutes you can be using the YardRack.
I tried it on my ATV, UTV, tractor and riding lawn mower and the tool storage possibilities are endless depending on the job I'm doing.
It's compact, easy to install and remove as well as store when not in use.
I would definitely recommend the YardRack to anyone looking to solve the problem of no tool storage on their ATV, UTV tractor or zero turn mower.
BTR, Thanks for making a quality and well thought out attachment.
Tony
Great customer service & amazing product!
Tim,
Your customer service is amazing, the personal touch you give to my order. Going above and beyond to make sure my order was completed. I really like your products especially the Big Tool Rack (small version) I put on my Cub Cadet garden tractor and since I have ordered R.O.P. attachment for my Kubota BX23.
Great Product & Customer Service!!! Veteran Approved!!!! 🇺🇲 🇺🇲 🇺🇲
Excellent quality
Makes working in the garden easier
see the
Yardrack® in action
HAUL OVER 15 TOOLS WITH THIS BAD BOY!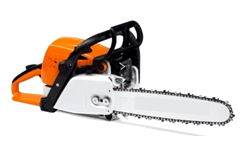 CARRY BACKPACK BLOWERS, ROPES, CHAINS AND MORE...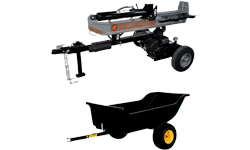 TOW YOUR LOG SPLITTER OR UTILITY TRAILER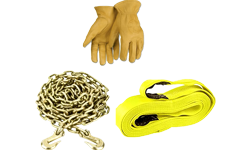 TAKE YOUR GLOVES CHAINS, STRAPS AND MORE...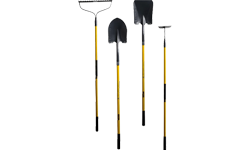 CARRY UP TO 4 LONG HANDLE TOOLS
CARRY 3 LARGE HANDLE TOOLS
Will it fit my equipment?
WILL IT FIT MY LAWN TRACTOR?
WILL IT FIT MY SUB-COMPACT TRACTOR?
With our Yardrack® you can
Haul More, Carry More, and Get more Done!™
Safely carry all of your project supplies and tools in this heavy duty rack with its many innovative features and smart design.
Built for a
Lifetime of Work
• Made of the highest quality material
• Powder coat textured finish to last a lifetime
• 1 year manufacturers warranty from manufacturers defects
DESIGNED FOR
Small Garages & Sheds With Limited Storage Space
COMPATIBLE with Attachments
You Already Own
ATTACH YOUR DUMP TRAILER!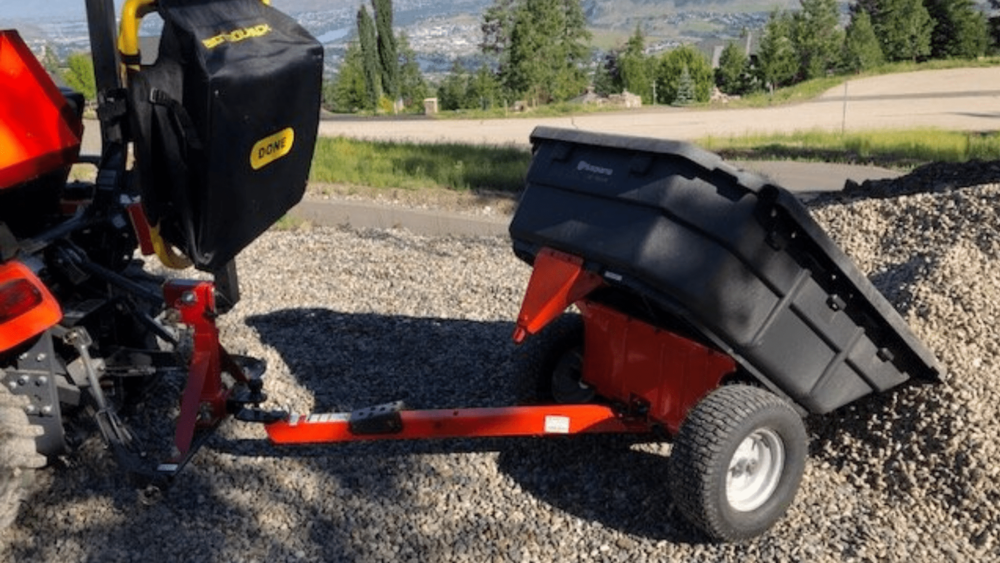 See what our customers are saying
ZERO RETURNS IN OVER 7 YEARS!
I'm so glad I chose the YardRack® over a trailer! The quality far exceeded my expectations. I followed the mounting instructions and it fit on my mower like a glove. No trailer to haul behind or worry about jackknifing. Plus I have such limited space in my shed and this does not take up any space at all!
My wife thought this was just another gimmick. Something that would never get used. But now she's convinced that I use it more than any implement or any tool that I have purchased in 10 YEARS!
It's like a little pick up truck body for my lawn tractor. Now I can garden and not have to drag my wheelbarrow out, I can even leave my gloves & clipper in it so I can trim bushes and trees when I am out on my property. It just made perfect sense to me. Very high quality product.
One of the frustrations my wife and I had with our subcompact tractor is where to carry things. We had to hook up our cart for most work which was overkill and an inconvenience most of the time due to limited space to turn it around.  When I saw the YardRack I was sold!    Our tractor can now sit loaded with tools and ready to go.
YOUR ORDER COMES WITH FREE SHIPPING ($60.00 VALUE).
FREE SHIPPING!
YardRacks are in stock and ship within 1-5 days!