Description

What's Included

Comparison

Load Capacity

Dimensions

Owner's Manual

Videos

Reviews
The perfect solution for anyone with 1 to 100 acres! This rack is the perfect add-on to your tractor. Haul more, carry more and get more done! Add functionality, efficiency, storage and counter weight to your compact or sub-compact tractor in seconds. After years of testing and development we've created a heavy duty rack to solve all the most common frustrations with compact and sub-compact tractors. The Ultimate Rack's heavy duty construction means jobs like making firewood, planting trees, gardening, spreading mulch, and managing properties will be simple and efficient. Safely carry all your project needs on your tractor using the many built in tool holders, from shovels to pole saws, string trimmers to chainsaws, this beast is Built to Haul it All™
HEAVY DUTY STEEL CONSTRUCTION (NOT THIN SHEET METAL) Ultimate Rack Weighs about 300 lbs. all by itself…
Attaches to your Quick Hitch or I-Match in seconds
Convenient retractable legs with heavy duty casters

Active tailgate with cables - turn your tractor into a pickup truck in seconds
Doubles as a 300 lb. counter weight, even without added suitcase weights
2" receiver hitch
Mobile workstation on and off your tractor
Package is 85% assembled in the crate
Kubota colors: Black & Orange
YOU COULD BUY A UTV 4X4, BUT HERE'S WHAT YOU'RE MISSING:
| Features | Ultimate Rack® | UTV 4x4 |
| --- | --- | --- |
| Cargo Space | YES | YES |
| Tractor Loader | YES | NO |
| Chainsaw Holder | YES | NO |
| Custom Tool Holders | YES | NO |
| Storage Bins | YES | NO |
| Rubber Cargo Liner | YES | NO |
| Grass Trimmer Kit | YES | NO |
| Cost | $2199.99 | $21,000+ |
| Additional Costs | One-Time Investment | Fuel and Maintenance |
WHY SPEND OVER
$21,000+

ON A UTV WHEN YOU COULD HAVE AN ULTIMATE RACK® FOR

ABOUT 10% OF THE COST?
600 LBS Maximum Load Capacity CARGO AREA
250 LBS Tailgate Capacity
50 LBS Maximum Tongue Capacity (tow feature) designed to tow a trailer, log splitter or other small attachments.
45" x 25.5" x 14" Tall
Weight approximatley 300lbs
Outside Dimensions (51" L to the outside of the telescoping wheel holder without the side bins) Side to Side
L: 57.5" (with the side bins) Side to Side
W: 36" Front to Back
H: 45.75" without wheels Top to Bottom
H: 59" Rack with wheel kit extended. Full Height Note the bottom of the rack is 16" off the ground with the wheels extended. With the wheels up it is 6.5"
Great addition to my Kubota tractor
I have wanted a Big Tool Rack for a long time for my Kubota tractor. I never wanted to spend the money to clean up my yard tools mess and have an organized rack to store them all in a neat rack. The Rack came and my son and I put it together. It is extremely well thought out and designed and built of quality materials.
It stores a ton of yard tools in an organized fashion and rolls into a corner of my garage till I need my yard tools. Having built it, seeing it, and realizing how convienent it is to use I would buy it again in a minute.
Thanks Big Tool Rack, I love your product and would buy it again many times over!!!!
DROP AND LOAD IT INTO YOUR GARAGE - LEAVING YOUR TOOLS ON IT!
Retractable Legs
HAUL OVER 20 TOOLS WITH THIS BEAST!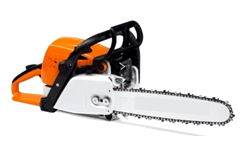 CARRY 1 CHAINSAW & YOU CAN ADD ANOTHER HOLDER
TRIMMER & YOU CAN ADD ANOTHER HOLDER FOR A POLE SAW
CARRY BACKPACK BLOWERS, ROPES, CHAINS AND MORE...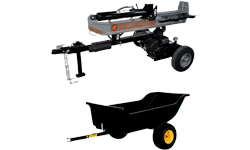 TOW YOUR LOG SPLITTER OR UTILITY TRAILER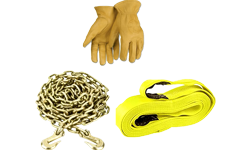 TAKE YOUR GLOVES CHAINS, STRAPS AND MORE...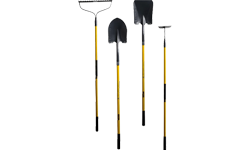 CARRY UP TO 8 LONG HANDLE TOOLS
CARRY 3 LARGE HANDLE TOOLS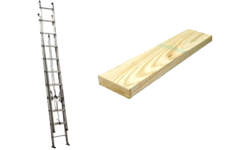 YOU CAN EVEN CARRY LADDERS & LONG LUMBER WITH EASE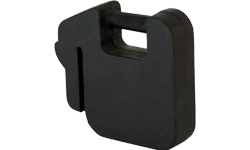 HOLDS UP TO 6 SUITCASE WEIGHTS...
Will it
Fit my tractor?
Perfect Carry-All Solution For Tractors Large And Small.
The Ultimate Rack attaches to any tractor with a category-1, 3 point hitch in seconds! If your hitch looks like this, it will fit!
Some popular models:
• Kubota BX, B, L, M series tractors and more

*Also iMatch & Quick Hitch compatible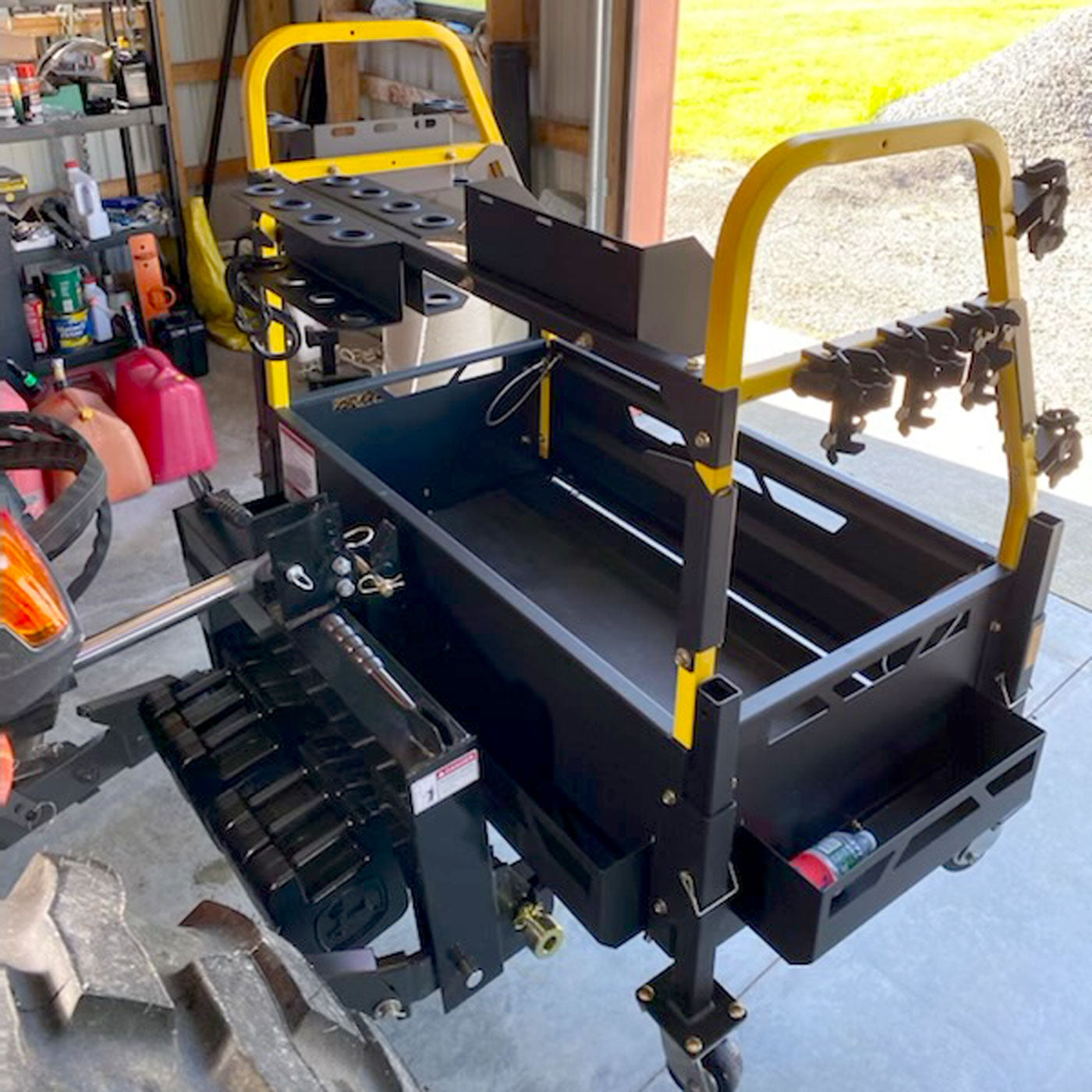 Will it
GIVE Me Ballast?
The Kubota Ultimate Rack will replace your weight box!
The Kubota Ultimate Rack weighs 300 lbs. all by itself and It holds 600 lbs. You can add six 42 lb. suitcase weights, to our counterweight bracket that comes standard on all Kubota Ultimate Racks.
The Kubota Ultimate rack can add up to 1100 lbs. of ballast to your tractor. Important: always refer to your tractors manual for recommended ballast.
COMPATIBLE with Attachments
You Already Own
See what our customers are saying
ZERO RETURNS IN OVER 7 YEARS!
It makes tractor work easier by allowing you to be far more efficient with your time. It's well constructed as it would need to be to stay up with various tractor work!
There's no doubt that this is one of the most valuable pieces of tractor equipment I have. I recommend it every chance I get!
3 Easy shipping options for everyone
FREE SHIPPING