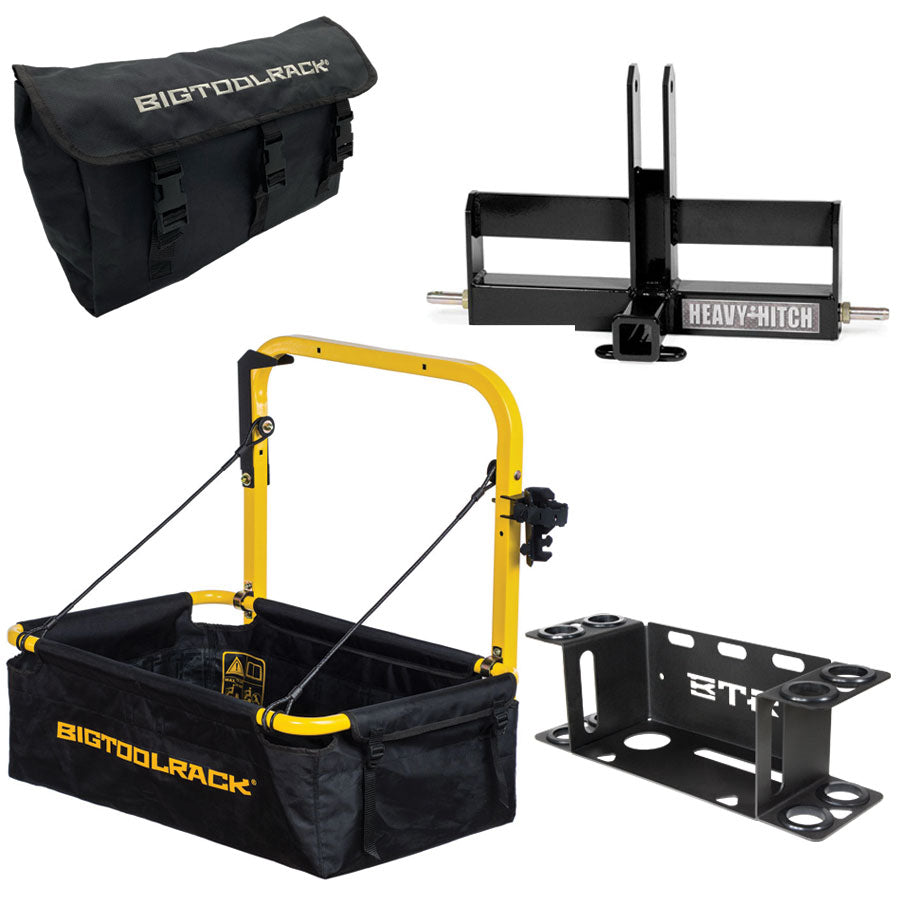 YardRack® Heavy Hitch Combo Offer - Category 1, 3 PT Hitch Receiver Drawbar- Suitcase Weight Bracket, GearBag & 5N1
Description

What's Included

Reviews
FOR COMPACT/SUB-COMPACT TRACTORS
Get the YardRack® + Heavy Hitch hookup. This combo is perfect for anyone who owns a compact/sub-compact tractor and is looking to get their new YardRack® connected to their 3 point hitch to carry tools & more!
What is the Heavy Hitch Category 1, 3 Point Hitch Receiver Drawbar With Suitcase Weight Bracket?
The indestructible 3 point hitch receivers redefine the tractor ballast box. With this Heavy Hitch receiver, you no longer have to choose between adding weight and adding tools to get the job done. Now you can do both. Just add suitcase weights for counterweight and hook up to any 2" receiver compatible attachment.
Category 1 tractors are rated up to 45 horsepower.
Compatible with:
All 3 point hitch receiver category 1 systems
Most 3 point quick hitch systems built to the ASE Standard S278.5
John Deere IMatch systems
1 BTR Gearbag
1 BTR-5N1 Tool Holder
1 Heavy Hitch Category 1, 3 Point Hitch Receiver Drawbar With Suitcase Weight Bracket
1 YardRack® which includes:

1 Large canvas bag with metal tube support frame
1 Upright Main Frame bar to attach your tool holders
1 Universal tool holder
1 universal drop down hook

1 Year Warranty
Your Guaranteed Satisfaction